BoldMove launches immersive Houba Discovery Store+ at LeisurUp/Mapic – booth R7.D2
New retailtainment concept develops in partnership with Celebrating Life, complements existing FEC Houba solutions
Following the successful launch of the Houba World & City family experience centres, BoldMove Nation is expanding the Houba family with a new addition: Houba Discovery Store+. This new and smaller version has been developed in close partnership with the French based 'Celebrating Life' consortium of experience experts in retailtainment, both in France and internationally. IP Owner Mediatoon Licensing remains a loyal partner of the Marsupilami themed entertainment solutions.
Houba Discovery Store+ blends a mainstream retail offer with an innovative 'Immersive Bubble' fun zone. Designed to fit a 600m2+ area, it includes a large comic strip store featuring the extended range of Marsupilami merchandising. The other half houses a selection of compact and mostly media-based attractions with a workshop zone. All activities are designed to resonate on social networks, such as the photo booth zone, but more importantly to attract customers and extend the shopping and fun experience. This latter part is mainly achieved through the use of a Marsupilami themed metaverse featuring BoldMove's AR Hybrid Quest technology. The quest is performed on the player's own smartphones and guides them across the mall or leisure venue with several augmented reality enabled assignments. They can earn bonus points, vouchers and other encouragements to lead them towards the various shops and activation stations, but very importantly also gain access to the Immersive Bubble. This interactive experience guarantees superfun activities for kids of all ages and their family members.
Across the venue and in spaces becoming available, other Marsupilami attractions can be installed, permanently or temporarily, like VR Rafting in a real boat, a 4D Cinema, VR Escape room, Karaoke Sing & AR Dance attraction, AR running track and so much more – all themed around the Palombian jungle and the Marsupilami family. This can be complemented with fitting food trucks, cultural and seasonal activities.
BoldMove's creative and technology visionary Benoit Cornet has been building interactive dark rides, theatres and walkthrough installations for over 20 years in theme parks and leisure venues across the globe. He states: "Our Houba concepts are not just another playground or FEC concept, they bring together innovative yet also appropriate technologies in an immersive all-family experience. We develop compelling stories around each attraction and across the entire premises, fuelled with dynamic media content, interactive, AR & VR technologies. The intention is for everyone to simply have fun and enjoy their time together, bolstering family and sustainability values. Therefore we develop our media content and gameplay in a very user-friendly way so young and old can bond and develop their personal skills."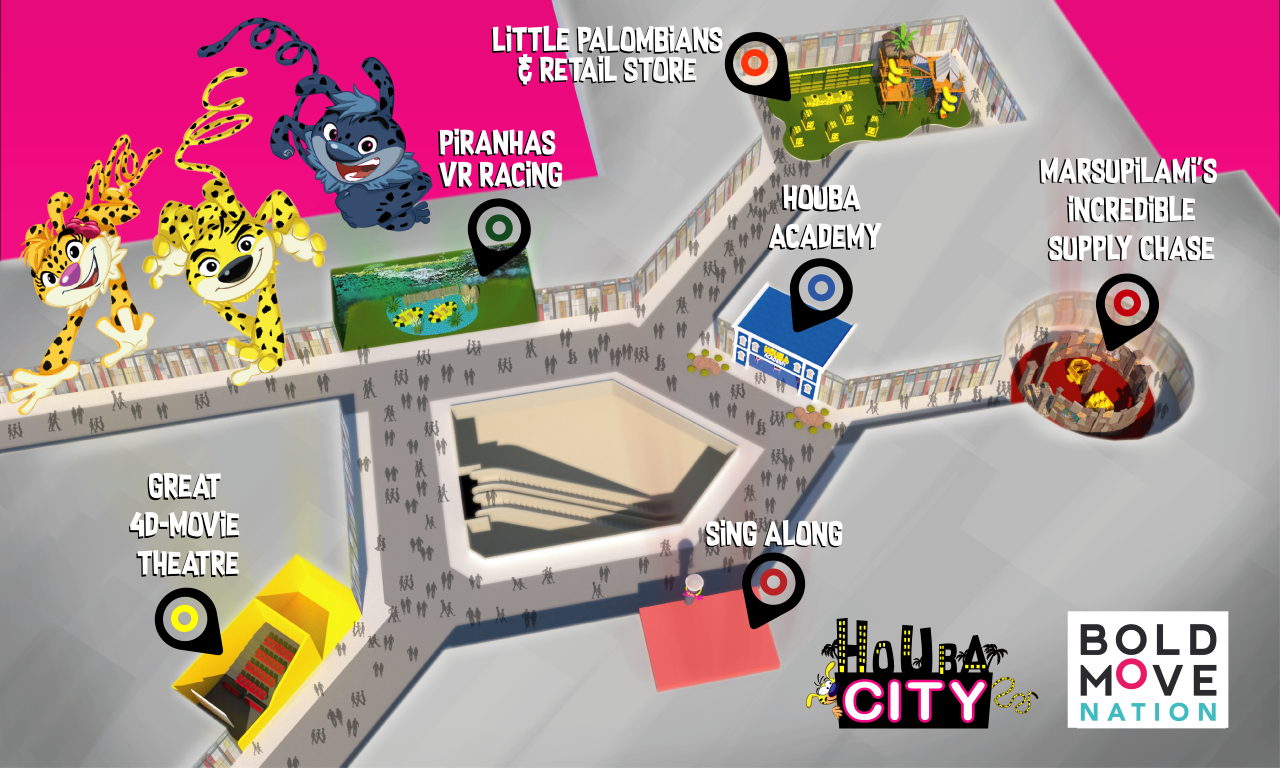 BoldMove partner and Founder of Celebrating Life Thibault Paquin has gained with his consortium years of retail market and experience expertise. He explains why he teams up with BoldMove Nation to develop and market this concept: "We have excellent experiences with the Marsupilami IP and its publishing house, and strongly believe the retail market needs more dynamic visitor experiences to revive their spaces. And who else than our colleagues from the entertainment market are better placed to bring this into retail environments? We share BoldMove's vision to develop holistic and immersive experiences with a fun theme and compelling story rather than a solitary VR attraction. We therefore see great applications and opportunities for Houba Discovery Store+ at shopping malls and leisure venues to re-attract visitors to their premises, entertaining and retaining them with exciting and innovative experiences."